A Former Black Stars captain Stephen Appiah has written a tribute to his late mother who died over the weekend.
In the tribute, Stephen Appiah described Madam Comfort Afua Amootey as the person who gives great joy.
He wrote the tribute on his social media platform on his birthday (December 24. 2018).
The former Juventus player who turned 38, said "This day was never complete without me showing you how much I love and appreciate all you have done for me. There was no birthday without the kiss on your cheeks. Why you chose to leave me the same week I celebrate my birthday is what I'm struggling to understand."
"4 days ago I knew I will be marking this day with you and today you are gone. God knows best. I dedicate my day to you even in your absence. I've asked God to give you my birthday kiss for me. Love you, mummy. Rest in perfect peace".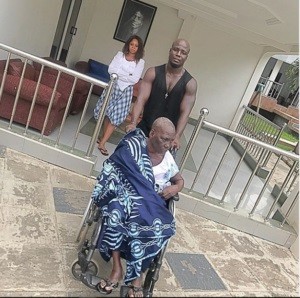 Stephen Appiah's mum passed away aged 73
Stephen Appiah popularly referred to as Tornado captained Ghana's Black Stars at their debut World Cup appearance in 2006 and was a member of their squad for the 2010 World Cup.
He is currently the Technical Coordinator of the Black Stars
Read the entire post below;
Today is my birthday and I should be celebrating but instead, I'm mourning. Mourning the very person who gives me so much love and joy. For I always see 24th December as a day to celebrate you instead of me because you made it possible. This day was never complete without me showing you how much I love and appreciate all you have done for me. There was no birthday without the kiss on your cheeks. Why you chose to leave me the same week I celebrate my birthday is what I'm struggling to understand. 4 days ago I knew I will be marking this day with you and today you are gone. God knows best. I dedicate my day to you even in your absence. I've asked God to give you my birthday kiss for me. Love you, mummy. Rest in perfect peace. #itiswell